Many of the Nation's Children Not Receiving Preventive Dental Services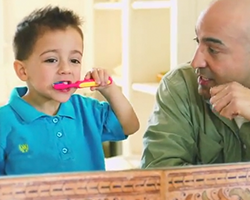 The most recent data on the use of dental services by the nation's children demonstrate that less than half (43.8%) of children through age 21 used dental care in the previous year, and only 14.2% of children under 21 years of age received an effective preventive dental service, percentages that have not changed over the past decade. The Centers for Disease Control and Prevention (CDC) Morbidity and Mortality Weekly Report (MMWR) Supplement entitled, Use of Selected Clinical Services to Improve the Health of Infants, Children, and Adolescents – United States, 1999-2011 reports these and other findings in a chapter entitled "Use of Dental Care and Effective Preventive Services in Preventing Tooth Decay Among U.S. Children and Adolescents – Medical Expenditure Panel Survey, United States, 2003-2009 and National Health and Nutrition Examination Survey, United States, 2005-2010." Low-income families were among those who were less likely to have received preventive services.
In the face of such disappointing data, it is critically important that we continue to promote and protect community water fluoridation. Its universal protective effects mean that everyone benefits, regardless of socioeconomic status, education level, or insurance coverage.